Corporate Entertainment For Gold Coast, Brisbane, Sydney, Melbourne
If you're looking for corporate entertainment that dazzles, delights, and leaves a lasting impression on your guests, look no further than Aerial Angels.
Since 2001, Aerial Angels have been the premier purveyor of corporate entertainment in Australia. Whether you want to set the scene with unforgettable arrival entertainment, drop jaws with a stunning feature act, or are looking for a memorable singer, musician, band, or DJ, we have you covered.
Our Gold Coast entertainment agency specialises in the exceptional, delivering performances that simply have to be seen to be believed. Your business will be the name on everyone's lips when guests experience the wonder, excitement, and showmanship of our talented artists.
While we're based in South East Queensland, Aerial Angels are available to bring corporate events to life in Sydney, Melbourne, Perth, Adelaide, or any other part of Australia.
Custom Corporate Entertainment
The entertainment offered by Aerial Angels can be entirely customised to suit your needs. We've performed at everything from lavish soirees to children's parties, and work with you to create the ideal event for your audience. 
Our ever-popular jugglers, fire twirlers, animal companions, dancers, and roving entertainers are terrific options for keeping both young and old mesmerised, but nothing beats a show stopping aerial act when you really want to impress. 
Of course, how extravagant you want the entertainment is entirely up to you. We're happy to arrange everything from full-scale productions, to simple yet spellbinding small scale entertainment.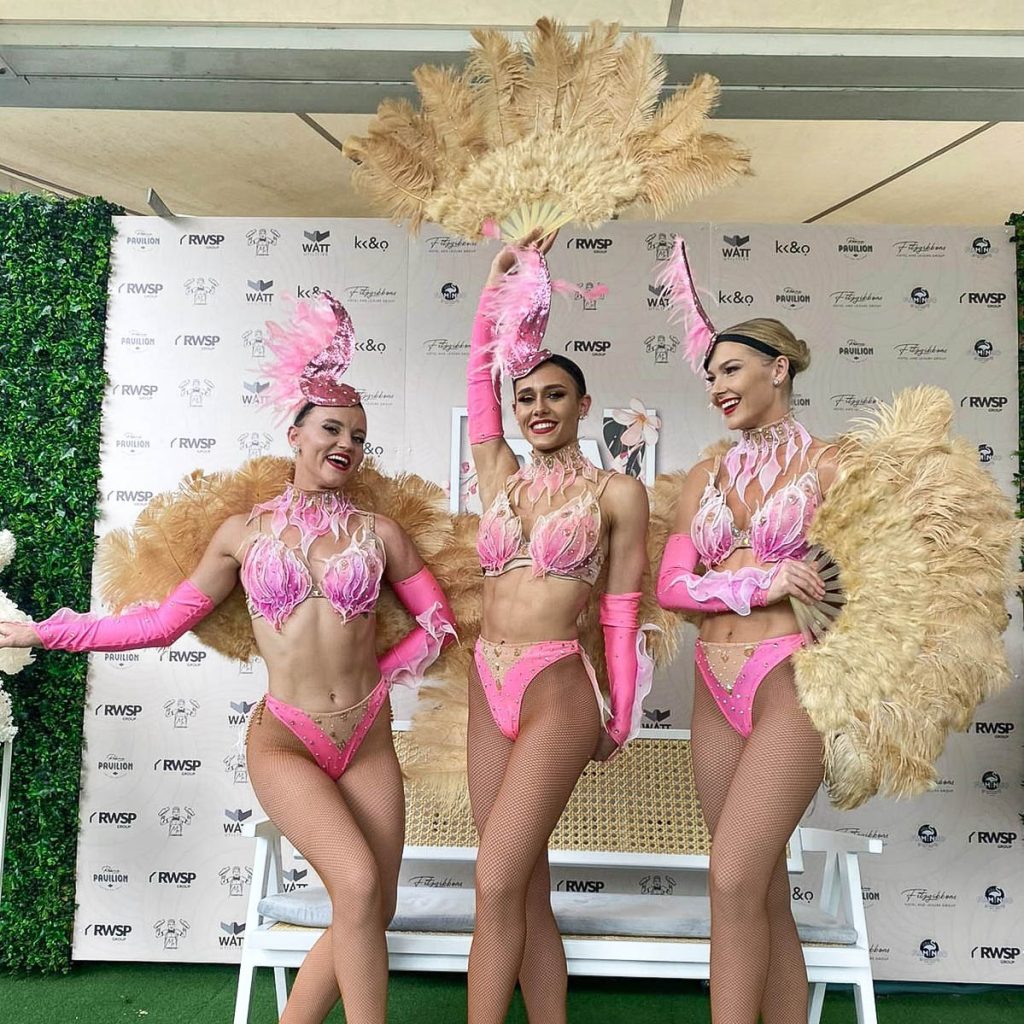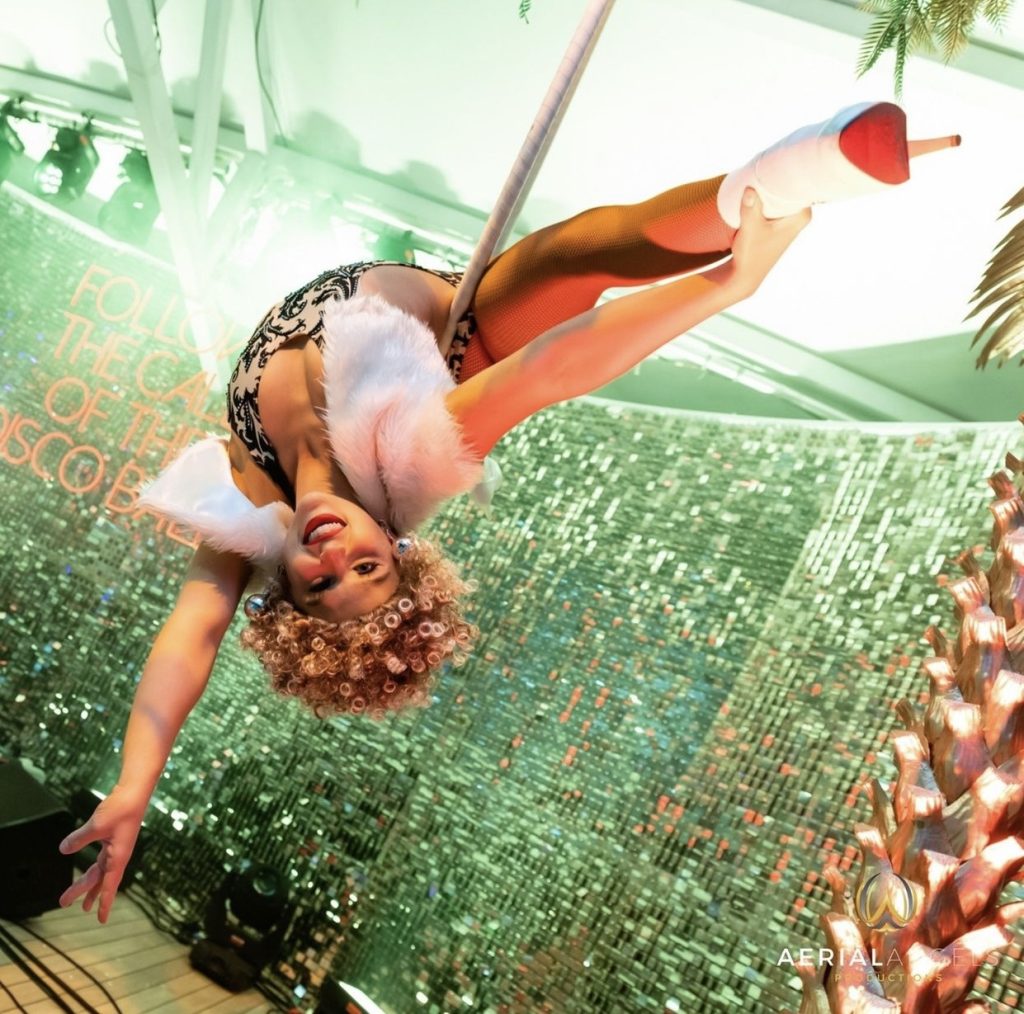 One of the best ways to get feet moving and tongues wagging is with a comprehensive theme. Our raft of ready-made options, including Parisian, Masquerade, Jungle, Disco, Christmas, and Halloween are certified party-starters, allowing attendees to fully embrace the festivities and let their hair down in style. By imbuing your event with a special sense of occasion they create memories and encourage connection to your brand, your message, and your team.
We understand that sometimes a more personal touch is called for, which is why our themes are completely customisable. We ensure your brand is well represented throughout with decor, performances, and music that embodies 'you'. With a custom event by Aerial Angels, you get the peace of mind that every detail will be taken care of – styling, music, costumes, lighting, and more. We act as an extension of your team, and aim to deliver an event that exceeds your expectations.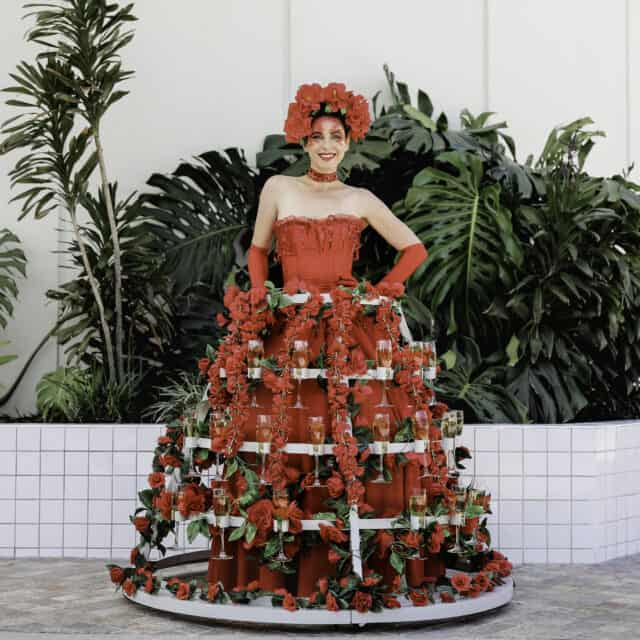 Roving & Arrival Entertainment
Start the event off on the best foot by entertaining them from the get go. Our installation/guest arrival pieces will start your event off the right way and have your guests elated. 

Roving and arrival entertainment is a great option for your corporate event as it helps set the tone and keep the party buzzing. Offering welcome beverages to guests via a rose-adorned champagne skirt, for example, is a guaranteed way to break the ice, while the grace and commanding presence of stilt walkers will serve as a breathtaking point of focus throughout the proceedings.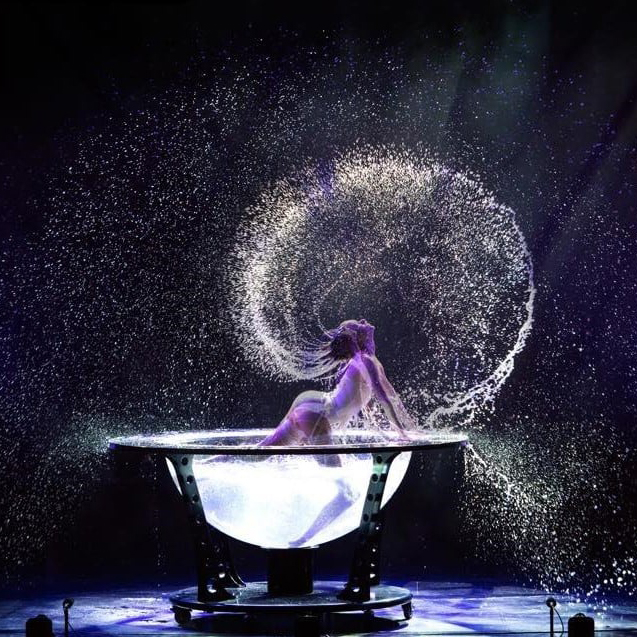 Looking for that WOW moment at your event – well look no further than booking one of our world class feature acts. These performers are one of an elite kind and will leave your audience gasping for more.

When the drinks are flowing and the merrymaking is underway, it's time to delight your guests with an unforgettable specialty act. Whether you opt for an artistic and enrapturing solo performance, a festive group dance, or a lighthearted circus-esque display of fire twirlers, jugglers, and acrobats, the results will be the same – an audience gasping for more. Discuss with our entertainment experts how your branding can be woven into these performances.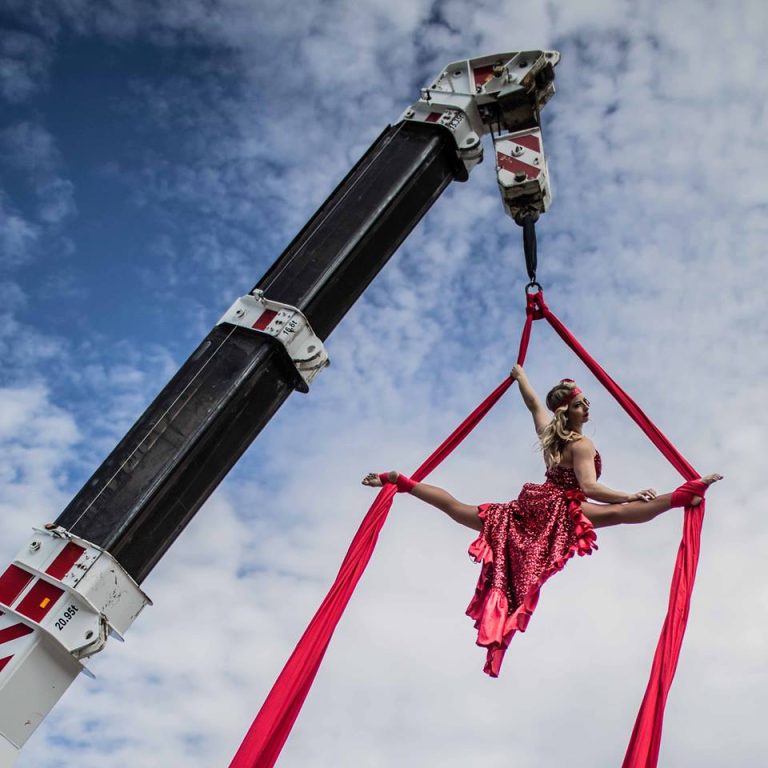 The Aerial Angels are widely known both locally & internationally as stunning aerialists whose uncompromising pursuit for excellence has made them Australia's best. 

Graceful yet powerful, these 'ballet-on-air' demonstrations stun as either a side attraction or the main event. Encompassing silks, flying trapeze, and so much more, aerial entertainment is timeless, and suits most any formal or casual event. Aside from being a thing of beauty, they can also serve a practical purpose – helping to top up guests' champagne. Who could possibly say no to drinks and a show?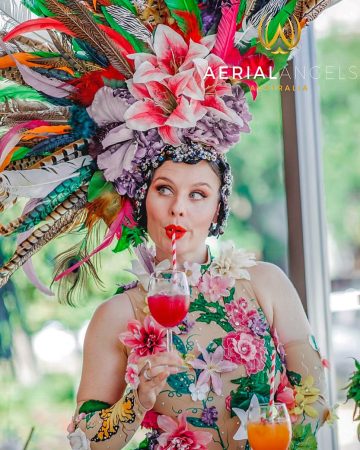 Promotions & Brand Activations
Put your business front and centre and stand out from the crowd with the help of our unmissable performers. Passersby and guests alike will flock to your brand activation or promotional event once they catch a glimpse of our whimsical artists and styling. With a magnetism like no other, they're perfect for increasing brand awareness, creating interest, generating sales or developing brand loyalty.
If you're launching your brand, debuting a new product, or just want a boost to your business, there are few better options for garnering real attention and real engagement. Our stunning team are known for their professionalism, punctuality and impeccable grooming.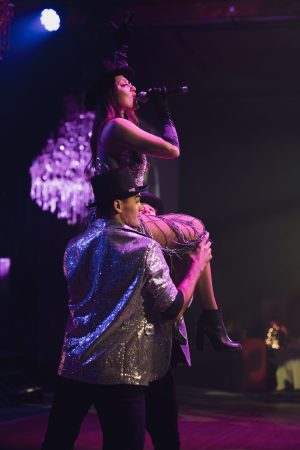 Singers | Musicians | Bands | DJs
Music is central to establishing the desired ambiance for your event, and oftentimes hitting shuffle on your phone playlist just doesn't cut it. Cue the live musical act. The options available to organisers are vast. For a swanky affair, a jazz quartet or a soulful solo singer might be in order, while a more lively shindig may call for an energetic DJ to get the party pumping. Whatever the case may be, your event will be all the more special with an experienced musician in attendance.